Posted on | August 23, 2013 | No Comments
Sponsors SparkFun, Boulder Engineering Studios, and Epilog Lasers promise to inspire future makers with technology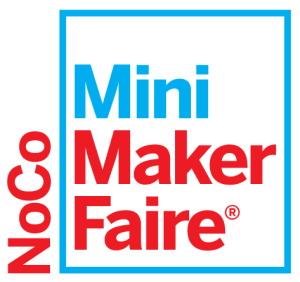 Loveland, CO (August 23, 2013) – Colorado's first major Maker Faire will be held at the Rocky Mountain Center for Innovation and Technology (RMCIT), the premier Northern Colorado technology park located in Loveland, Colorado. The NoCo Mini Maker Faire (http://makerfairenoco.com/) is proud to present its inaugural event at RMCIT, located at 815 14th St SW, Loveland, Colorado, from 10:00 a.m. to 6:00 p.m. October 5, 2013.
RMCIT provides an expansive innovation space for this event that includes local and national innovators, entrepreneurs, artists, creative builders, ingenious DIY hobbyists, scientists, tech-tinkerers, engineers, manufacturers, and producers. The NoCo Maker Faire has a variety of sponsors and exhibitors that are sure to make for an event full of fun and inspiration.
Presenting Sponsor SparkFun Electronics (www.sparkfun.com), an online retailer that sells the bits and pieces to make electronics projects possible, will be at the NoCo Maker Faire with DIY kits and soldering stations with trainers that make creating electronics fun and accessible. SparkFun's CEO Nathan Seidle recently presented at TEDx Boulder about the power of open source technology that drives his business model. Providing demonstrations and kits, SparkFun will encourage the inner engineer in everyone at the NoCo Mini Maker Faire.
Boulder Engineering Studio (www.boulderes.com) and Epilog Laser (www.epiloglaser.com) will be on hand as exhibit sponsors to provide intriguing looks into the world of engineering new products and leading edge laser cutting technologies. Other exhibits and sponsors promise to celebrate things people create themselves — from new technology and electronic gizmos to urban farming and "slow-made" foods to homemade clothes, quilts and sculptures. This event demonstrates what and how people are inventing, making and creating. Sponsor Road Narrows Robotics will demonstrate new industry robotics technologies and Action Works is bringing its annual youth robotics scrimmage to the faire.
Many community businesses support the goals of the NoCo Maker Faire including: Sustaining Sponsor Mueller CPA; Community Sponsors: Pivot Guild, PrestonSTEM Institute, Exodus Moving, and Media Sponsors: CompanyWeek and Northern Colorado Business Report (NCBR). The NoCo Mini Maker Faire helps raise the profile of all the makers and innovators and grow the innovation ecosystem from youth education to entrepreneurship and industrial new product development.
About the NoCo Mini Maker Faire
The NoCo Mini Maker Faire is an offshoot of the celebrated Maker Faire (www.makerfaire.com) created in the SF Bay area that draws over 100,000 annually from all around the world. To follow the development of the Faire and also learn more about the emerging Maker Movement and community resources for Makers, visit the website at www.nocomakerfaire.com or on Facebook at www.facebook.com/nocominimakerfaire. The NoCo Mini Maker Faire is independently produced by Making Progress L3C in collaboration with Maker Media.
Posted on | August 22, 2013 | No Comments
Here's the second article placed on behalf of a colleague and their technology/software testing client
http://www.billingworld.com/blogs/insider/2013/08/back-to-back-testing-in-oss-bss.aspx
Posted on | August 22, 2013 | No Comments
Our clients and friends DataTraks are featured in this local article: http://www.reporterherald.com/business-top-stories/ci_23881724/lovelands-tech-culture-gets-national-notice
Posted on | August 16, 2013 | No Comments
We've been assisting a colleague with one of their technology clients – this article posted yesterday to Billing & OSS World, a telecom industry publication: http://www.billingworld.com/blogs/insider/2013/08/start-testing-your-billing-product-a-year-in-adva.aspx
Posted on | August 14, 2013 | No Comments
Local client Sculpture Depot was featured in IN this week: http://innovationews.com/innovation-news-releases/sculpture-depot-3d-workshops-demonstrate-convergence-of-art-and-technology/
Posted on | August 9, 2013 | No Comments
Brad's article on NoCo cycling published yesterday in a local lifestyle magazine: http://stylemedia.com/
Northern Colorado Gears Up for US Pro Cycling Challenge
Local professional riders enjoy the NoCo lifestyle when preparing for and recovering from life on the road.
By Brad Shannon
Amanda Miller photos provided by Larry Rosa; Georgia Gould photos provided by Colin Meagher and Rich Adams
Northern Colorado is abuzz as the US Pro Challenge (www.usaprocyclingchallenge.com) bicycle race, in its third year, brings a stage to Northern Colorado for the first time. This year's route features 16 professional teams racing around the state from August 19-25. The penultimate stage of the premiere cycling race in the country starts on August 24 in Loveland at The Ranch. It rolls 115 miles through Windsor and Loveland, climbs up to Drake, Glen Haven, and Estes Park, zips back down past Masonville, climbs the Horsetooth Reservoir dams, visits Bellvue, and finishes in Old Town Fort Collins.
NoCo has a growing international reputation as a cycling-friendly community, and that has led to stronger ties to the professional cycling world. An increasing number of pro riders are calling the area home, for the same reasons many others do, including great weather and a variety of outdoor activities available year-round.
One of the better-known riders on the international scene is Rocky Mountain High School grad Tejay van Garderen, a rider on the BMC team who raced with Rio Grande in Fort Collins in 2004-05. After winning "Best Young Rider" in the 2012 Tour de France, he won his first major stage race, the Tour of California, this May. He earned a second-place finish in the Tour de France's 18th stage this year in what's been described as a disappointing overall performance for him and his team. He and the BMC team will be looking to rebound next month when they come to Colorado to compete in the US Pro Challenge.
The NoCo Pro Lifestyle
Some common themes emerge when talking to local professional riders about what brought them to the area, and what they appreciate about living here. An appreciation of our local weather, training opportunities and a plethora of activities to choose from when preparing for and after returning from a challenging life on the road are among them. All four riders, unprompted, named routes around and west of Horsetooth Reservoir, including part of the Pro Challenge stage, as favorite places to ride and train.
Alex Hagman, an Aspen native in his third season with the Jelly Belly Pro Cycling Team, presented by Kenda, came here in 2009. He was drawn here by recruiters for a local pro/elite team, and came for the opportunity and the resources that help him train and race. "The racing is good, the riding is good, and there are good resources for a pro – I have access to the healthcare I need, including massage and chiropractic, and there are quiet, open roads to train."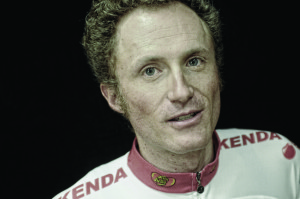 While Hagman's team raced the inaugural Pro Challenge in 2011, they were not selected last year. "We're excited to be back for 2013," he said. "Growing up in Colorado, it's amazing to have a race of this caliber coming through, and get to race in it on roads I grew up riding against former world champs and Tour de France winners. And then when I finish, my family is there waiting for me. Racing is global, and not many racers get that chance. It's special, and I'm fortunate to have that."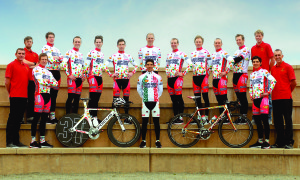 Mountain bike racer Georgia Gould of the LUNA Pro Team and her husband chose Fort Collins after seeking a mild climate that allowed year-round cycling and that was affordable, bike friendly and close to a major airport. "I've been a lot of places, and ridden all over the world," she notes. "But at the end the day, I want to be home. There's world-class riding right out my door, on the trail or road. The cycling community offers something for everyone – low-key races, and mountain, road and cyclocross options that welcome all levels, from beginners to pros."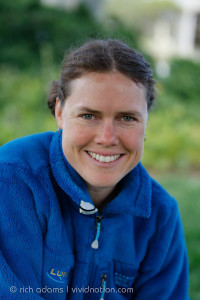 Gould also appreciates how different parts of the community get along. "There is no real conflict with motorists on the road. On the trail, we have a lot of horses, hikers and bikers, and the level of conflict is low overall, especially compared with other places where I've seen a lot of negativity and trail closures. I'm proud to be part of a community where everyone respects everyone and gets along pretty well."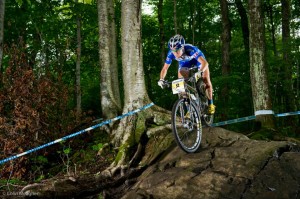 Pat McCarty and his Bissell Pro Cycling will also participate in the US Pro Challenge. McCarty is a NoCo newcomer, coming here this April when his girlfriend got a job at CSU. After relocating from Boston, he appreciates the altitude and the chance to train on local hills, as well as the ability to get out of town quickly and find quiet roads to train – what he describes as "nice, chill riding."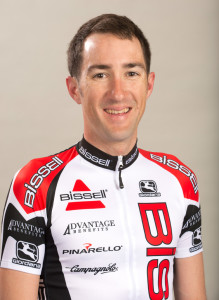 With 10 years of professional experience, McCarty is one of the most seasoned riders in the area. "It's a pretty unique lifestyle, and it's really appealing to do what you love. I've been able to travel, see a lot of the world, and live in Europe as part of the national team and professionally."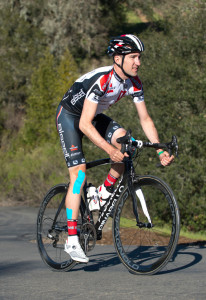 After spending much of his time as a pro in Europe, he says he likes racing in the U.S., is encouraged that the schedule of domestic races is improving, and is enjoying the opportunity to be home more. "Having four other Bissell team members living along the Front Range is unique," he notes. "Before, I was the only one on my team living in Boston. The move here made things hectic, but we're getting settled in, closing on a house and plan to take advantage of the local recreation opportunities. When it comes to lifestyle, living here has been a big improvement, and it's hard to beat this area for the activities available."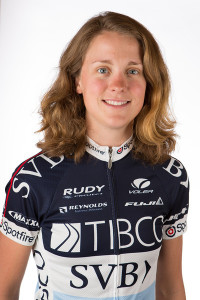 Amanda Miller, a member of Team Tibco, came to Colorado State University after graduating high school in Iowa because of its strong collegiate cycling program. Originally a basketball player, Miller started riding her bike on the gravel roads around her family farm, found a supporting cycling community there that helped her grow, then saw success wearing green and gold that opened doors to national, international and professional opportunities.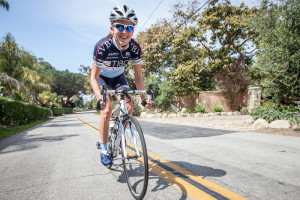 Miller cites CSU as the beginning of her full racing career, and credits the Rams Cycling Team with giving her the support she needed to produce results that got her noticed. Her strong performance at the USA Cycling Collegiate Nationals in 2008, hosted by the Rams in Fort Collins, garnered an invite to a stage race as part of a collegiate all-star team. That led to additional National Team and professional opportunities.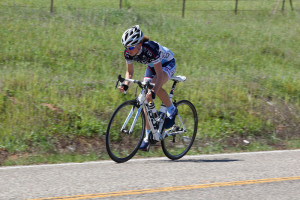 "I really like Northern Colorado," said Miller. "There are endless opportunities for training, the weather is great, there's a great cycling atmosphere and lots of support. The community is amazing, and I love all the other options there are for activities, and I love the restaurants."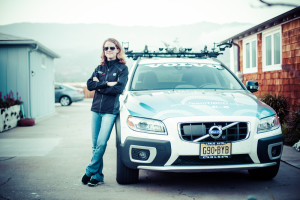 What it Takes
The most important part of starting or stepping up your cycling is setting a goal and mapping out a way to achieve it. Want to race? Get in shape? Ride a century (100 miles)? Complete the Triple Bypass or Ride the Rockies? Take your sweetheart on a tour of Tuscany? Commute to work? It all starts with a calendar and a plan. Sometimes you can do that yourself, other times it takes a coach and special tools.
Gale Bernhardt, a local whose experience includes coaching the US triathlon teams for the 2003 Pan American Games and the 2004 Olympics, notes that many riders don't have the structure and forethought it takes to improve efficiently. Before increasing volume, riders must vary their effort. "You can't just ride the same speed, a mediocre level of not-too-hard, not-too-easy," she notes. "Some days need to be faster, some days are slower, recovery days. Faster hurts more, and you can learn to deal with that discomfort and ride for an extended time at a faster, uncomfortable pace."
According to Bernhardt, one of her athletes, a mountain biker seeking to become a pro, trained 10-12 hours a week while at CSU and did well. Now, aiming for World Cup results, he's training 15-18 hours a week, with some weeks of 18-22 hours a week in the saddle, with rest weeks thrown in. The pros participating in Grand Tours like the Tour de France or the US Pro Challenge can spend six days a week riding six hours a day during a stage race, even riding on their off days; but they don't maintain that volume year round.
Competitive local racers can expect to ride 10-15 hours a week during big training weeks. "It is not as much as some might think," she said. "You don't have to give up your whole life and train 20 hours a week to race locally. If you're smart about intensity and volume, you can still enjoy a 'regular' lifestyle. In fact, too much training leads to fatigue, inadequate recovery and poor results on race day."
There's a tendency for cyclists to get caught up in obsessing about the latest equipment and a quest for shaving ounces from their rides; but the fact is, most folks are carrying a few extra pounds around their middle and would benefit from better training. The best way to buy speed can be getting a coach and following a detailed training and nutrition plan.
Ainslie MacEachran is a local cycling coach and trainer who regularly announces races around the state. "I see a lot of riders with the latest and greatest gear, getting shelled. They're spending top dollar on equipment, when that money would be better spent on a coach."
Once a rider has some baseline fitness and a little speed, both Bernhardt and MacEachran suggest finding local groups that cater to beginners, and beginner-friendly group rides through a local bicycle shop. There are some general rule and etiquette involved in riding with a group, and it is important to learn those early on.
If you're looking for a tool to organize your cycling life, Training Peaks (home.trainingpeaks.com/) was created by Fort Collins resident Gear Fisher and his partner and Fort Collins native Dirk Friel, a CSU grad and well-known coach. Training Peaks has millions of customers and is the official training and data analysis software for the US Pro Challenge.
Get Involved
On Race Day
Want a taste of the pro racer lifestyle? The quickest and easiest route is to volunteer – and cheer on the riders – when the US Pro Challenge stage is here on August 24. For a 2.5 hour shift, you'll get a t-shirt, a locally made BRAAP energy bar and more. Sign up here: www.yourgroupride.com/index.php/local-races/usa-pro-challenge/152-usa-pro-challenge-volunteer-signup.
If you'd like to support women's racing and take in all the excitement of the stage race finish for the US Pro Challenge finish line August 24, the Fort Collins Follies present a Pro Women's Grand Prix criterium race. Volunteer or come and cheer at this event, which covers multiple laps of a small circuit in Downtown Fort Collins while the men's pro stage is traversing its route. Learn more at: www.facebook.com/FortFolliesProWomensGrandPrix.
Additional information about the local stage of the US Pro Challenge is at www.nococycling.com/.
Beginners
For riders interested in the cycling lifestyle and safety, it is significant that this May, after years of effort by local cycling advocates, Fort Collins was named a Platinum Bicycle Friendly Community by the League of American Bicyclists, www.bikeleague.org/bfa.
A key player in that effort was Rick Price, founder of locally based ExperiencePlus! bicycle tours and an advocate for safe, accessible cycling in NoCo and beyond. His latest efforts include the Bicycle Safety Institute to teach smarter and safer cycling (www.bicyclesafetyinstitute.org), as well as working to explore opportunities to bring a Bike Share program to the area.
For all levels of riders, Your Group Ride, www.yourgroupride.com, strives to be a centralized source for all things bicycle ride and race-related in Northern Colorado. Find routes, group rides, races and more, on roads and trails. Local bicycle shops, including Lee's, Peloton, Full Cycle, and others, are great resources for information on group rides, selecting and maintaining your ride, and much more.
If you're brand new to riding, or have guests in from out of town, check out the Fort Collins Bike Library, where you can check out a bike for free: www.fcgov.com/transportationplanning/bikelibrary.php.
Bike Fort Collins is a great resource to learn about bicycling locally: www.bikefortcollins.net.
The Fort Collins Bike Co-op has a lot of great programs for kids, women, and anyone interested in learning more about maintaining and repairing bikes: www.fcbikecoop.org.
Loveland's PEDAL bicycling club, www.pedalclub.org, along with shops that include Peloton, Breakaway, Rocky Mountain and others, do a great job of serving Loveland riders.
Kids
Check out kids' programs at the Bike Co-op, mentioned above. Also check Your Group Ride for grassroots racing options for young riders, including free races at the City Streets Criterium series, the CSU Oval Race series, a Tuesday night Short Track Race series, cyclocross races in the fall and winter, and others.
The Ciclismo Youth Foundation locally is dedicated to creating programs that get kids involved in races, including an August mountain bike race series in Lory State Park, the Colorado High School Cycling League and local high school mountain bike racing teams. More at www.ciclismoyouthfoundation.org/.
Women
The Fort Follies, who are running the women's race on August 24, have other programs for women riders of all levels. See www.fortfollies.com/ for more information. If you're interested in mountain biking, check out Team BOB (Babes on Bikes), which does rides on Tuesdays: www.coteambob.com.
Other "Professional" Cycling Options
Finally, if you lack the time, the athletic tools, and the drive to live the NoCo pro cycling lifestyle as a rider, perhaps a different way into the professional ranks of the cycling industry is your best bet. The Fort Collins Bicycle Industry Alliance is a group of local businesses that produce cycling-related products. Find them on Facebook at www.facebook.com/FortCollinsBicycleIndustryAlliance.
Brad Shannon is a Loveland-based cyclist, marketing and public relations consultant, and freelance writer.
Posted on | August 5, 2013 | No Comments
IN posted this piece earlier today:
http://innovationews.com/energy/lightning-hybrids-accelerates-efforts-to-improve-worldwide-fleet-efficiency/
Lightning Hybrids accelerates to improve worldwide fuel efficiency
LOVELAND –Lightning Hybrids first turned heads with their sleek hydraulic hybrid sports car.
Company founders Dan Johnson and Tim Reeser built the LH4 and planned to enter it in the Progressive Automotive X PRIZE competition.
They also displayed the prototype vehicle at the Denver Auto Show. There, and elsewhere, they received inquiries about putting their non-electric hybrid drive technology to use retrofitting trucks.
Facing an extended, expensive road to continue work to make the LH4 a viable production vehicle and finish the X PRIZE competition, the company decided to shift its focus to creating a hydraulic hybrid retrofit system for trucks. That led to the design of a system for fleet vehicles like medium-duty shuttle buses.
The system adds a pair of pump/motors and a high-pressure accumulator to the driveline of a vehicle. When the driver brakes, some of the energy that would be lost to braking drives the pumps. That pushes hydraulic fluid into a carbon-fiber accumulator, where it compresses nitrogen gas inside a rubber bladder. When the vehicle accelerates, the energy stored in the accumulator is released to assist to the engine.
The result is a 30 to 40 percent improvement in the vehicle's fuel efficiency.
Impressive numbers
While the move from developing a futuristic coupe that gets 100 mpg to building a retrofit for the workhorse vehicles of the global economy might be a step back on the eye candy scale, the numbers behind the move are impressive.
Tim Reeser
Reeser, the company's president, is excited by what he describes as an international opportunity.
"In the U.S., the general public tends to be a bit short-sighted when it comes to fuel costs," he notes. "In Toronto, they pay about $6 a gallon for gas. China is worried about fuel costs and air pollution. In Turkey, gas is $10 a gallon. A 30 percent boost in fuel economy saves $3 per gallon.
"For a commercial fleet, there's typically a 30 percent profit margin," he said. "A 30 percent swing in fuel prices kills that. As individuals, we complain and eat the cost. For fleets, this is life or death, and improving fuel economy is a critical innovation."
For a large fleet like UPS' 100,000 vehicles, or an environment like Bangalore, India – where mass transit uses 6,000 buses to transport nearly 10 million residents across nearly 500 square miles – the benefits add up quickly.
"CAFE fuel mileage standards – requiring fleet vehicles to get 20 mpg by 2018 – are not the driving force here. Our customers are."
The company now has 17 people at two Loveland sites building a $25,000 retrofit system that provides a two-year payback for vehicles that drive many miles in stop-and-go service. Current production is two systems a month. Reeser expects that to grow to 20 a month in 2014. As that happens, a variety of factors (automation, value-added engineering, cost-cutting, material volume discounts, system simplification, including increased reliability and reduced weight) should help drive down the cost by $5,000 to $10,000 per system.
Growing demand
Growing demand will be helped by a recently announced partnership with National Fleet Hybrids, which will make the hydraulic hybrid drive system available to New England and Mid-Atlantic fleets.
There are currently seven of these systems on the road, including one in Loveland with a second on the way, two at Colorado State University, one each in service for Enterprise Rent-a-Car, National Express in Canada and Boston's National Fleet Hybrids. Inquiries on when the company will offer a hydraulic hybrid system for trash trucks are coming from a number of municipal and refuse hauling fleet operators.
The big payoff, though, comes with the prospect of vehicles coming off the production line with the Lightning Hybrids system as original equipment. The company has an OEM joint development agreement with GM, and is in talks with Ford, Isuzu and Mercedes.
"Today, we're all about brake regeneration, but our gain in fuel economy is limited by how many stop-and-go miles are being driven," said Reeser. "UPS has a goal to double its fuel economy, from 10 mpg to 20 mpg. We take them from 10 to 13 mpg. The next step is working with OEMs to combine our system with a smaller engine."
Using a smaller engine provides the additional 7 mpg that UPS and other fleets need to get to 20 mpg. Installing the system at the factory also eliminates the need to change the drive shaft, which must be done on some retrofits.
Lightning's system enables manufacturers to spec a smaller engine because it makes an additional 700 to 1,500 foot-pounds of torque available for vehicle acceleration. Without such a system, engines are sized to ensure a heavy vehicle can go from a standing start to cruising speed in a reasonable time. Reeser says OEMs can go from a 6-liter engine to a 3-liter engine with the hydraulic hybrid system. That also lowers overall vehicle weight and improves safety.
Expectations that come with improved fuel efficiency are typically low, as that often means compromising vehicle comfort and performance. But not with their technology, Reeser says, "With our system, better gas mileage does not involve a sacrifice. We actually increase power and improve braking."
At the end of July, Lightning Hybrids was announced as one of four finalists in the Colorado Innovation Network (COIN) "Glorious Failure" contest. They will present to a panel of judges on Aug. 29 as part of the second-annual COIN summit, competing for cash and services.
In a promotional video for the contest, Gov. John Hickenlooper notes that it's important for entrepreneurs to learn, adapt and pivot based on the circumstances. Lightning Hybrids' shift from sports car to medium-duty fleet vehicles seems to provide a clear example of how far that ability can take an organization.
Posted on | August 4, 2013 | 1 Comment
I've been interested in a standing or treadmill desk for some time, but had not found the time and materials to create one.
That changed a few weeks ago when a neighbor had a decent treadmill that they gave me rather than moving it to their new home. (actually, they were trying to sell it, I was not interested in that price, and they surreptitiously left it in the driveway when they left with their last load)
Finished a prototype desk this weekend using a Weslo cadence ex14. It is fairly well reviewed online. It happens to fold, a space saver model, so that's a nice feature, though I'm not certain I can set up the desk in a way that keeps that feature useable.
I removed the control panel from the handrails and cut off the outside 1/3 on each side with a hack saw. It was filler material between the central box that held the control system and the attachment point for each hand rail.
These are not my photos btw, I grabbed some example shots off the web . . . I was thinking as I was doing it I should be taking pics, but didn't -
the lower photos of the working prototype are mine.
The handrails attached with two bolts on each side – I removed them (mine were gray, you can see them here, though they are white in this shot).
The wiring from under the base – the motor control system – to the control panel came up through the right base strut, and then went through the right hand rail. I had to open the control panel box and unplug everything so I could pull it back through and out of the hand rail – there were about four connections/plugs.
Some of the examples I found online keep the hand rails and use them to support some sort of work surface – but in this case, the short, angled, curved rails were not going to work for that.
I had a wire shelving unit – InterMetro brand - in the basement. I think this will eventually move upstairs to my office, but I wanted to try it out before lugging it up there, so it is in the living room for the moment. So for now it is a likely temp setup with a laptop.
I set one shelf to go just above the two base struts, and another a few notches down from the top at work surface height when I stand on the belt. It takes at least a couple of shelves to stabilize the rail and column setup.
It did not take long at all to get the hang of typing and walking. The wife says she thinks I could walk a bit faster. My biggest concerns at this point are that the motor tends to have a relatively loud hum when operating, no matter the speed. I'm also trying to figure out just how to set it up in my office – whether to continue using it with the laptop long term, or to figure out a way to set it up with my dual-screen desktop computer.
Posted on | June 17, 2013 | No Comments
Englewood, Colorado, June 17, 2013 – Manhard Consulting, a full-service civil engineering firm with offices nationwide, has hired Michael B. Unger, PE, to serve as Area Manager of Denver Operations. Unger will be based in the Englewood, Colorado office.
In his position, Unger will be responsible for business development along all service lines, resource allocations, budgeting and overall financial performance. In addition, he will work with the national management team to assist in strategic planning and identify acquisition and regional growth opportunities.
"Michael's inherent understanding of our business will greatly contribute to our ongoing efforts to grow our firm along the Front Range," said Don Manhard, Jr., president and CEO of Manhard Consulting. "His vast experience in both operational and project management made Michael an obvious choice to lead our team as we continue to evolve."
Prior to joining Manhard Consulting, Unger served as Western Regional Manager of the Infrastructure Business Unit for Stanley Consultants where he was responsible for all facets of the operation. His 25-year career brings extensive experience in project management and performance in the areas of infrastructure, land development, transportation, municipal services, construction management and surveying to his new role.
Unger received a bachelor's degree in architectural engineering from the University of Colorado at Boulder. He is a member of the Urban Land Institute and is on the Land Development Coalition Executive Committee of the American Council of Engineering Companies.
About Manhard Consulting
Manhard Consulting, Ltd. provides civil engineering, surveying, water resources management, water and wastewater engineering, environmental sciences, construction management, land planning, landscape architecture and other services to more than 6,000 clients from its offices in California, Colorado, Georgia, Illinois, Indiana and Nevada. The firm's corporate headquarters are in Vernon Hills, Illinois. To learn more about our company and services, visit manhard.com  or facebook.com/pages/Manhard-Consulting-Ltd.
Posted on | May 24, 2013 | No Comments
Middleware breathes new life into existing CRM systems, without sacrificing legacy databases
Fort Collins, Colo. – Front Row Solutions (FRS), a customer relationship management (CRM) system built around the needs of sales representatives and sales managers, has released new middleware that allows sales reps to use the Front Row Sales Pro app to populate sales reports into legacy CRM systems. This new software solution allows companies to modernize their field sales operations, leverage the investment they've made in legacy CRM systems, improve their system's usability, and extend its usefulness.
Many companies cannot afford to switch CRM providers, as they've spent a lot of time and money creating and customizing their current system. To start from scratch with a new CRM would take a prohibitive amount of time and money. At the same time, some companies are struggling with poor reporting compliance by sales reps using systems that are difficult to learn and harder to use.
When switching to a new CRM provider – basically starting over – is simply not feasible, few options have existed. Front Row Solutions recognized this dilemma and developed a new middleware that allows companies to integrate the sales reporting tools of the FRS Sales Pro app into legacy CRM systems. This brings the speed and ease of use offered by the FRS app to a variety of older technologies.
Front Row CRM was designed by sales reps and was built around four basic principles. It had to be easy to learn; fast and easy to use; accessible on a variety of mobile platforms; and clearly demonstrate the ability to help sales representatives save time and make more money. Front Row Solutions' Sales Pro Application combines the fastest, easiest mobile reporting tool available with real-time, robust information for sales managers.
The company's middleware gives sales reps access to all the benefits of Sales Pro on the field, and allows sales manager to access the reported data on both the legacy CRM and the Front Row Solutions website. Companies can choose from two integration options. The first allows the reps to instantly send a sales report to the FRS server and then the company's legacy CRM to populate the established database. The second allows for this communication between the Front Row Solutions server and the legacy CRM, but also allows the sales rep access to the updated database from the field. Both the FRS server and the legacy database are accessible to sales managers.
Sales Pro allows sales reps to spend less time on administrative tasks, gives them productivity tools and customer insights on the go, and frees up their time so they can make more sales, more quickly. Sales reps can complete a sales report in less than 60 seconds, giving the rep and the sales manager real-time information on every call, customer contact, and sale.
To see the Front Row Solutions system in use, watch this short video of a sales rep submitting his sales report immediately after a sale using an Apple iPad: http://youtu.be/hgVzi2vH1TI.
FRS Sales Pro has been synchronized with most major CRM systems, including Sales Force, Sugar CRM , Act, Microsoft  Dynamics, and more. Front Row Solutions CRM has also been integrated with a variety of ERPs, financial data systems, and home-grown management systems. Front Row Solutions works with the administrators of its clients' legacy CRMs to find the best solution for integrating Sales Pro to ensure a smooth transition. That gives clients access to the sales reporting tools they need to re-engage their sales force and boost productivity.
For those seeking a new solution, Front Row Solutions CRM  can be used as a standalone CRM system, allowing fast reporting, real-time information, custom dashboards with customizable filters, and many more tools to help enable an accountable and productive sales force.
To view or download the app, visit the app store for Apple, Blackberry, or Android, and search for "Front Row Sales Pro." To learn more about the FRS Sales Pro app, view the video or visit www.FrontRow-Solutions.com.
About Front Row Solutions
Front Row Solutions (FRS), a North American company, was founded in 2008 to improve the Customer Relationship Management (CRM) process. Designed by former sales reps and drawing from the executive team's 30+ years of experience in all facets of business, the FRSCRM system can stand alone or integrate into currently implemented systems, helping sales reps improve revenue and profit by using its fast, user-friendly interface. The FRSCRM provides real-time insight to the sales management team, and the fast, easy-to-use system improves sales representatives' compliance on sales reports, empowering the sales management team to fully track rep accountability, performance and a host of other invaluable functions for guaranteed improved profitability. For more information, call 1-800-986-0983, email sales@frontrow-solutions.com, or visit www.FrontRow-Solutions.com.
« go back
—
keep looking »